Christmas 1974 holds a special place in the heart of June McLellan. It was the first time she really celebrated the birth of her Saviour, Jesus Christ. Not that June had ignored Christmas, but that year it took on a personal and life changing relevance. A few weeks earlier June had become a Christian. Up to then, her life had been one of insecurity, hurt and anger. Her early marriage to Alex had ended in divorce after six years of unhappiness and violence. 'It was no place to bring up the two kids,' June admits.

June came from what she describes as a 'silent home'. 'As a child I wasn't allowed to speak.' Communication was non existent so June went into married life ill prepared for conflict. 'I was on Valium. Our marriage was just a mess; we were destroying each other. The bottom line was that I didn't know any other way to live. I had never heard the Good News.' For the next six years June had other relationships and in 1974 she terminated a pregnancy. 'I wanted to keep this quiet and get on with life. I didn't believe in God but I was consumed with shame and guilt, fear and anxiety. I didn't understand it. My life was falling apart.'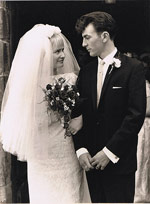 June found support from a Christian neighbour. 'She was always very nice to me and had tried to share the Gospel with me. But my thought was "if she only knew what I'm like, she wouldn't want to speak to me".' Then June experienced what she describes as a 'horrendous evil experience'. 'I had to believe in the power of evil because he came and smacked me in the face. I knew it was stronger than I was. The first person I thought of for help was my Christian neighbour.'

'I told her what had happened. 'There's evil, there's evil, I said. "Yes was her reply. This neighbour had met me, seen my loneliness and my need for God and had prayed for me every day for two years. 'Has your God sent me a warning to change my way of life?' June asked. 'She said "June, God doesn't send evil." "But I don't believe in God," was my response. Anyway she came to my house and as she prayed, the evil went away.'

'The first church meeting she invited me to I walked in and I started to cry. I could physically feel this warm love wrap around me. It's what we're all looking for, isn't it?' 'I heard the Gospel for the first time. It was like a revelation "There's a God!" Then the fear of God fell on me. "There's a God and he knows everything about me." I started to shake. "There's a God and he is holy and there's a heaven and I can't get in". I was utterly petrified.'

The pastor opened his Bible and explained the Gospel (Good News). 'Do you mean,' June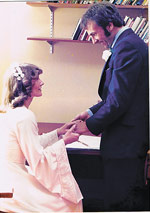 Said, 'that God loves me so much that he gave his son to die on the cross for me and that God punished him for everything I'd done wrong?' The pastor said 'Yes'.

'How do I get this God? What do I have to do to get this forgiveness? If you'd offered me a million pounds or this forgiveness, I wasn't interested in the money. I felt the most filthy, loathsome person on the face of the earth. I knew I needed forgiveness and I knew I needed to be clean. The pastor said "You pray".'

June followed the pastor in a 'repeat after me' prayer. 'It was instantaneous,' she recalls. 'I felt like the top of my head had been opened up and all this love poured in like a waterfall. I was filled with this love and this peace. I knew I had been forgiven. I'd turned to Christ. I was a Christian! 'For me, it was the love I'd been looking for all my life.' But this wasn't the end of the story.

'Alex was a "Sunday daddy". He watched me for a year to see if I'd revert back. Then he said "I'm coming to this church to see what they've done to you." He came for a year and he listened,' June recalls. When the opportunity came for Alex to respond to the Gospel, he too went forward and gave his life to the Lord.

'All that time I wasn't interested in him as like my husband,' says June. 'But honestly when he came out of the room it was like torches had been lit behind his eyes – his face was glowing. I looked at him and I thought "He's nice!"' After six months the pair knew that they still loved each other and decided to remarry. They got engaged at Christmas 1978 and were remarried six months later. And the neighbour who faithfully prayed for June? They're good friends to this day.